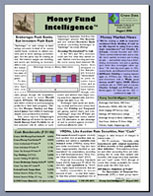 MFI Custom Reports include by-​request studies, excerpted and customized versions of existing products, and private-​labelling. Examples include:
Sorts and Rankings

- Give us your criteria, and we'

​

ll build you a ranking and report based on your request.
Top-

​

Yielding AAA Funds - We'

​

ve built a Top 20 list of AAA-

​

rated funds ranked by monthly annualized returns.

Private Money Fund Intelligence

- Have us build your company'

​

s own customized version of MFI for your client base or website.

Historical Rate and Asset Study

- We'

​

ve examined how money fund assets perform during rising, falling and flat rate scenarios for a client.
Contact us for options, pricing estimates, product mockups, and more information.
Issues
Latest Contents ()
---
The content page contains archives and delivery settings for all subscriptions.