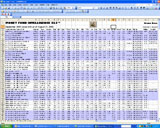 Money Fund Wisdom is Crane Data'​s premium product. The product "​suite" includes subscriptions to our Money Fund Intelligence, Money Fund Intelligence XLS, and Money Fund Intelligence Daily, as well as a website which allows users to build custom queries on our historical database of money fund performance information. Wisdom also includes our Money Fund Portfolio Holdings data set and our Money Fund Portfolio Laboratory, a program that allows users to "​X-​ray" money fund portfolios to see aggregate country, maturity, issuer and composition information.
Money Fund Wisdom Features:
Extensive Performance Statistics

- Yield (

​

7-

​

day), return (

​

1-

​

mo, 3-

​

mo, YTD, 1-

​

yr, 3-

​

yr, 5-

​

yr, 10-

​

yr, since inception), plus gross yield and returns.

Historical Yields and Returns

- Annual returns, monthly and weekly yields.

Fund Profile Information

- Inception dates, phone numbers, ratings, minimums, managers, advisors, and more, as well as a breakout of expenses in a convenient "

​

profile" format.

Money Fund Intelligence and XLS

- Full access to current and past MFI'

​

s, MFI XLS'

​

s, and Crane Data'

​

s entire library and database of information.

Crane Money Fund Indexes

- Our benchmark money market averages by fund type on every performance data point.

Money Fund Portfolio Holdings & Reports

- Our monthly collection of taxable and tax exempt money fund holdings, including our "

​

stacked" file with all the holdings in one XLS, and our "

Reports & Pivot Tables

" version which allows custom reports.
We'​re confident that you'​ll find Money Fund Wisdom faster, cheaper and cleaner than any other investment analysis programs. E-​mail us or call 1-​508-​439-​4419 to subscribe or to test drive our high-​end product!
---
The content page contains archives and delivery settings for all subscriptions.