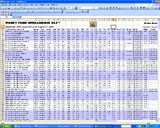 Northern Institutional Funds filed to liquidate its $​1.​7 billion Northern Prime Obligations Portfolio earlier this week, we learned from Bloomberg. The filing says, "The Board of Trustees (​the '​Board') of Northern Institutional Funds (​the '​Trust') has determined, after consideration of a number of factors, that it is in the best interests of the Prime Obligations Portfolio (​the '​Portfolio') and its shareholders that the Portfolio be liquidated and terminated on or about July 10, 2020 (​the '​Liquidation Date') pursuant to a plan of liquidation approved by the Board. The Liquidation Date may be changed at the discretion of the Trust'​s officers. The pending liquidation of the Portfolio may be terminated and/​or abandoned at any time before the Liquidation Date by action of the Board of the Trust. As of the date of this supplement, Williams Capital Shares of the Portfolio have not commenced operations and are not offered for purchase." (​The fund'​s assets are down from $​3.​8 billion on Feb. 28, 2020.)
The Bloomberg piece, "Northern Trust to Shutter Money-​Market Fund After Redemptions," tells us, "Northern Trust Corp. is shutting down a money-​market mutual fund after volatility in March spurred redemptions that sent it below a regulatory threshold for maintaining liquidity. The $​1.​7 billion Northern Institutional Prime Obligations Portfolio will stop accepting new investments next month and start selling its holdings under a liquidation plan set for July 10, according to a filing."
Reuters, in a March 23 article,"Fed'​s Money Market Move Lifts Northern Trust Fund Above Key Threshhold," wrote, "Liquidity at a $​2.​2 billion prime money-​market fund run by Northern Trust Corp fell below the key 30% U.​S. regulatory threshold twice last week, but rebounded above that level after the U.​S. Federal Reserve shored up the industry. As the coronavirus roils the global economy and squeezes Wall Street for cash, money-​market reforms put in place after the 2007-​2009 financial crisis are weathering a major test."
They explained, "Several institutional prime funds, whose investors include large corporations, were at risk of falling below the 30% threshold before the Fed took extraordinary steps reminiscent of the last financial crisis to backstop the money-​market industry." The Northern Prime Obligations Portfolio disclosed that its weekly liquidity level fell to 27% of assets twice last week, according to the fund'​s website -- reducing its buffer for quickly converting assets into cash to meet investors' redemptions. However, Chicago-​based Northern Trust, a bank and wealth manager, said on Monday the latest weekly liquidity level for the fund was nearly 41%."
In other news, The Federal Reserve Bank of New York published an update on the "The Primary Dealer Credit Facility" via its Liberty Street Economics blog. They write, "On March 17, 2020, the Federal Reserve announced that it would re-​establish the Primary Dealer Credit Facility (​PDCF) to allow primary dealers to support smooth market functioning and facilitate the availability of credit to businesses and households. The PDCF started offering overnight and term funding with maturities of up to ninety days on March 20. It will be in place for at least six months and may be extended as conditions warrant. In this post, we provide an overview of the PDCF and its usage to date."
The NY Fed writes, "Lending rose quickly after the PDCF'​s launch, and the weekly average of outstanding loans peaked at over $​35 billion for the week ending April 15.... Outstanding loans remained in the $​30-​35 billion range for a few weeks, before decreasing recently, as market conditions improved. The vast majority of value-​weighted PDCF loans have a maturity longer than overnight.... The bulk of the assets financed in the PDCF to date have been corporate and municipal debt, as well as asset-​backed securities and commercial paper. These are asset classes that were experiencing considerable volatility and pressure in early March. Market conditions have improved markedly since the introduction of a variety of Fed interventions, including the PDCF."
They explain, "The Federal Reserve initially established the PDCF in March of 2008, following severe strains in the tri-​party repo market, associated in part with Bear Stearns' troubles.... Following its inception in March 2008, usage of the original PDCF increased to approximately $​40 billion, before decreasing to zero by mid-​2008.... This $​40 billion level is roughly comparable to the peak usage of today'​s PDCF. Usage of the original PDCF increased to over $​140 billion in September 2008, following the bankruptcy of Lehman Brothers. This peak is much higher than the current use of today'​s PDCF. However, the range of collateral eligible for the PDCF post-​Lehman was much broader than the range of eligible collateral at the PDCF today, making comparisons difficult."
The piece adds, "The PDCF is one of many facilities introduced by the Federal Reserve to support the U.​S. economy in the face of the coronavirus pandemic. The PDCF helps primary dealers support smooth market functioning and facilitate the availability of credit to businesses and households in their capacity as market makers for corporate, consumer, and municipal obligations." For more, see these previous Liberty Street Economics blogs: "The Money Market Mutual Fund Liquidity Facility" and "The Commercial Paper Funding Facility."
Finally, Crane Data published its latest Weekly Money Fund Portfolio Holdings statistics Tuesday, which track a shifting subset of our monthly Portfolio Holdings collection. The most recent cut (​with data as of May 15) includes Holdings information from 80 money funds (​up two from two weeks ago), which represent $​2.​664 trillion (​up from $​2.​568 trillion) of the $​5.​123 trillion (​52.​0%) in total money fund assets tracked by Crane Data. (​Note that our Weekly MFPH are e-​mail only and aren'​t available on the website. For our latest monthly Holdings, see our May 12 News, "May MF Portfolio Holdings: Treasuries Skyrocket, Repo Plunges in April.)
Our latest Weekly MFPH Composition summary again shows Government assets dominating the holdings list with Treasury totaling $​1.​344 trillion (​up from $​1.​209 trillion two weeks ago), or 50.​4%, Repurchase Agreements (​Repo) totaling $​635.​7 billion (​down from $​706.​4 billion two weeks ago), or 23.​9% and Government Agency securities totaling $​470.​7 billion (​up from $​470.​4 billion), or 17.​7%. Certificates of Deposit (​CDs) totaled $​70.​7 billion (​up from $​48.​7 billion), or 2.​7% and Commercial Paper (​CP) totaled $​59.​2 billion (​up from $​58.​7 billion), or 2.​2%. A total of $​46.​9 billion or 1.​8%, was listed in the Other category (​primarily Time Deposits), and VRDNs accounted for $​37.​6 billion, or 1.​4%.
The Ten Largest Issuers in our Weekly Holdings product include: the US Treasury with $​1.​344 trillion (​50.​4% of total holdings), Federal Home Loan Bank with $​289.​3B (​10.​9%), Fixed Income Clearing Co with $​99.​9B (​3.​7%), Federal Farm Credit Bank with $​69.​9B (​2.​6%), BNP Paribas with $​69.​5B (​2.​6%), Federal National Mortgage Association with $​57.​5B (​2.​2%), Federal Home Loan Mortgage Corp with $​51.​3B (​1.​9%), JP Morgan with $​49.​5B (​1.​9%), RBC with $​46.​8B (​1.​8%) and Mitsubishi UFJ Financial Group Inc with $​30.​0B (​1.​1%).
The Ten Largest Funds tracked in our latest Weekly include: JP Morgan US Govt ($​228.​4B), Goldman Sachs FS Govt ($​217.​0B), Fidelity Inv MM: Govt Port ($​194.​3B), BlackRock Lq FedFund ($​175.​5B), JPMorgan 100% US Treas MMkt ($​142.​3B), Wells Fargo Govt MM ($​138.​6B), Goldman Sachs FS Treas Instruments ($​133.​3B), Morgan Stanley Inst Liq Govt ($​109.​3B), State Street Inst US Govt ($​105.​4B) and BlackRock Lq T-​Fund ($​86.​4B). (​Let us know if you'​d like to see our latest domestic U.​S. and/​or "​offshore" Weekly Portfolio Holdings collection and summary, or our Bond Fund Portfolio Holdings data series.)