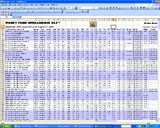 MFI Daily Data offers the largest and most competitive funds and investors a nightly look at dividend factors and daily yields. Available in Excel, RSS, or custom FTP, Money Fund Intelligence Daily contains:
Daily Dividend Factors

- Factors or "

​

mill rates" show the amount paid, or credited, by each fund.
Yields (

​

1-

​

day, 7-

​

day, 30-

​

day) - Daily 1-

​

day, 7-

​

day and 30-

​

day yields are included, along with rankings.

Assets, AMs, Ratings, Cutoffs

- Other data includes assets, average maturities, AAA ratings and trading deadlines.

Custom Sorts, Rankings

- Sort by 1-

​

day yield, or by 30-

​

day, and select your own custom peer group.

Crane Money Fund Indexes

- Our benchmark money market averages by fund type on every performance data point.
We'​ve begun collecting funds on a daily basis and expect to go live with this product in April. E-​mail us for a sample!
---
The content page contains archives and delivery settings for all subscriptions.