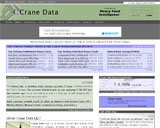 The Investment Company Institute released its latest monthly "Trends in Mutual Fund Investing" reports yesterday. Their numbers confirm a jump in money fund assets in December, following a jump in November and a dip in October. ICI'​s "December 2017 - Trends" shows a $​51.​8 billion increase in money market fund assets in December to $​2.​847 trillion. This follows a $​57.​9 billion increase in November, a $​8.​8 billion decrease in October, a $​28.​8 billion increase in Sept., a $​71.​8 billion increase in August, and a $​13.​6 billion increase in July. In the 12 months through December 31, money fund assets have increased by $​119.​2 billion, or 4.​4%. We review ICI'​s latest reports below, and we also quote from a filing for a new money market fund, Semper U.​S. Treasury Money Fund.
ICI'​s monthly report states, "The combined assets of the nation'​s mutual funds increased by $​149.​60 billion, or 0.​8 percent, to $​18.​75 trillion in December, according to the Investment Company Institute'​s official survey of the mutual fund industry. In the survey, mutual fund companies report actual assets, sales, and redemptions to ICI."
It explains, "​Bond funds had an inflow of $​13.​40 billion in December, compared with an inflow of $​14.​97 billion in November…. Money market funds had an inflow of $​49.​40 billion in December, compared with an inflow of $​55.​44 billion in November. In December funds offered primarily to institutions had an inflow of $​33.​80 billion and funds offered primarily to individuals had an inflow of $​15.​59 billion."
The latest "​Trends" shows that both Taxable and Tax Exempt MMFs gained assets again last month. Taxable MMFs increased by $​49.​3 billion in December, after increasing by $​57.​4 billion in November and decreasing $​9.​4 billion in October, but increasing $​30.​1 billion in September, $​73.​5 billion in August and $​11.​9 billion in July. Tax-​Exempt MMFs increased $​2.​5 billion in December, after increasing $​0.​5 billion in November and $​0.​9 billion in October, but decreasing $​1.​3 billion in September and $​1.​7 billion in August. Over the past year through 12/​31/​17, Taxable MMF assets increased by $​118.​3 billion (​4.​6%) while Tax-​Exempt funds rose by $​0.​8 billion over the past year (​0.​6%).
Money funds now represent 15.​2% (​up from 15.​0% the previous month) of all mutual fund assets, while bond funds represent 21.​7%, according to ICI. The total number of money market funds decreased by 9 to 382 in December, down from 421 a year ago. (​Taxable money funds fell by 9 to 299 and Tax-​exempt money funds were unchanged over the last month.)
ICI also released its latest "Month-​End Portfolio Holdings of Taxable Money Funds," which confirmed a surge in Repo and a sharp drop in CDs in December. Repo remained the largest portfolio segment; it was up $​51.​9 billion, or 5.​7%, to $​956.​4 billion or 35.​2% of holdings. Repo has increased by $​156.​2 billion over the past 12 months, or 19.​5%. (​See our Jan. 11 News, "Jan. Money Fund Portfolio Holdings: Repo Jumps, Breaks 1.​0 Trillion.")
Treasury Bills & Securities remained in second place among composition segments; they rose by $​354 million, or 0.​1%, to $​702.​2 billion, or 25.​9% of holdings. Treasury holdings have fallen by $​94.​1 billion, or -​11.​8%, over the past year. U.​S. Government Agency Securities remained in third place; they rose by $​6.​0 billion, or 0.​9%, to $​682.​5 billion, or 25.​1% of holdings. Agency holdings have risen by $​4.​7 billion, or 0.​7%, over the past 12 months.
Certificates of Deposit (​CDs) stood in fourth place; they decreased $​35.​5 billion, or -​16.​3%, to $​182.​4 billion (​6.​7% of assets). CDs held by money funds have risen by $​34.​6 billion, or 23.​4%, over 12 months. Commercial Paper remained in fifth place, increasing $​1.​9B, or 1.​3%, to $​148.​2 billion (​5.​5% of assets). CP has increased by $​44.​4 billion, or 42.​7%, over one year. Notes (​including Corporate and Bank) were down by $​404 million, or -​5.​2%, to $​7.​4 billion (​0.​3% of assets), and Other holdings increased to $​15.​0 billion.
The Number of Accounts Outstanding in ICI'​s series for taxable money funds increased by 306.​4 thousand to 26.​885 million, while the Number of Funds declined by 9 to 299. Over the past 12 months, the number of accounts rose by 1.​650 million and the number of funds decreased by 12. The Average Maturity of Portfolios was 32 days in December, up 2 days from November. Over the past 12 months, WAMs of Taxable money funds have shortened by 12 days.
In other news, a filing for the new Semper U.​S. Treasury Money Fund tells us, "The Semper U.​S. Treasury Money Market Fund (​the "​Fund") seeks to provide current income while maintaining liquidity and a stable share price of $​1.​00." Run by Semper Capital Management, the fund will have an expense ratio of 0.​30% (​after a 0.​12% waiver).
It adds, "The Semper U.​S. Treasury Money Market Fund (​the "​Fund") is a series of Forum Funds II (​the "​Trust"), an open-​end, management investment company (​mutual fund).... The Advisor receives an advisory fee from the Fund at an annual rate equal to 0.​20% of the Fund'​s average annual daily net assets under the terms of the Advisory Agreement.... Thomas Mandel, CFA, has been the portfolio manager of the Fund since its inception in 2018 and is responsible for the day-​to-​day management of the Fund."
Issues
Latest Contents ()
---
The content page contains archives and delivery settings for all subscriptions.